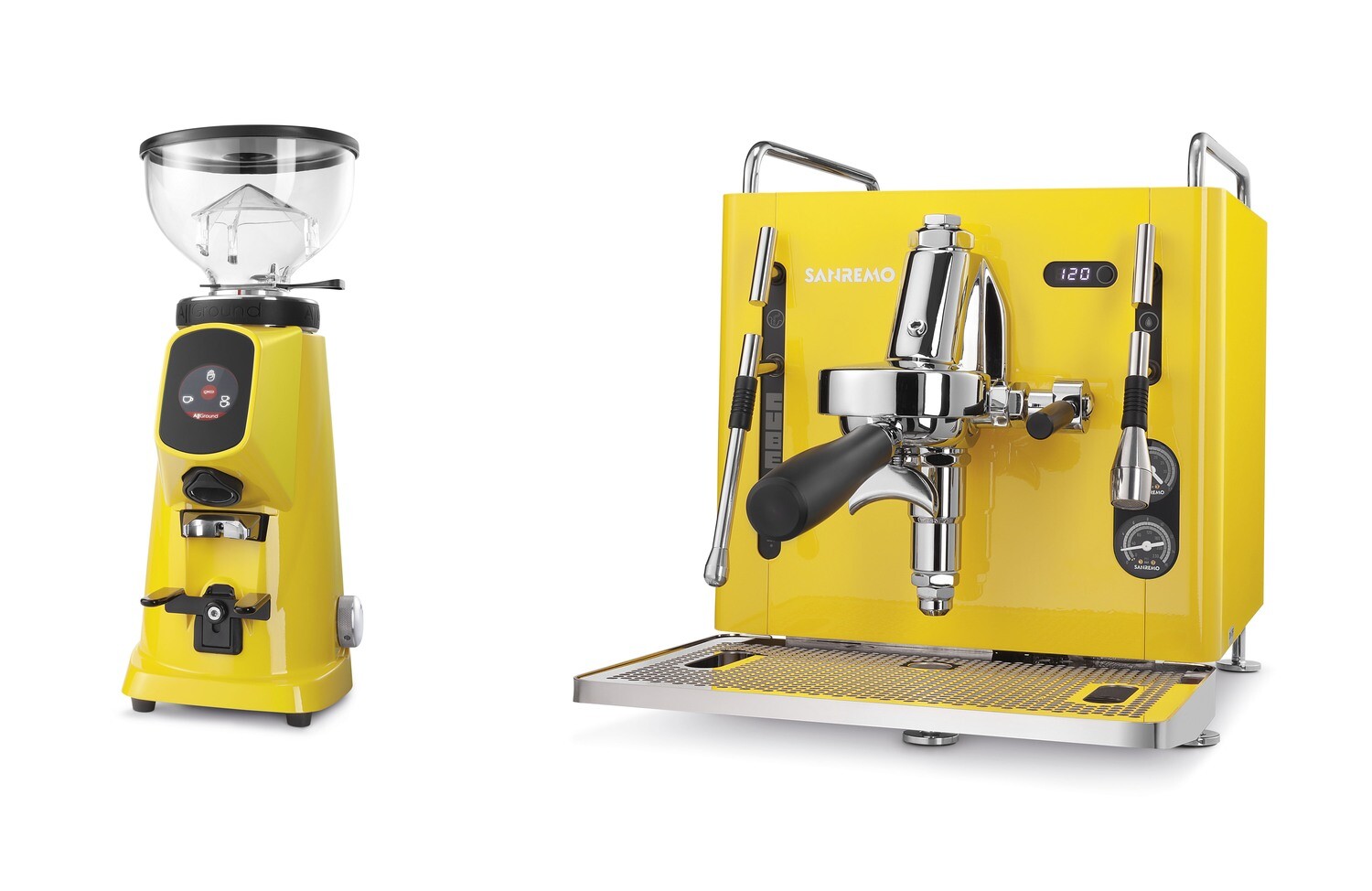 SanRemo Package (AllGround Grinder + CUBE Espresso Machine)
36983
Product Details
SanRemo Ultimate Package (AllGround Grinder + CUBE Espresso Machine)
AllGround Grinder
High-precision grinding for your home, cafe, or professional environment to unleash the grain's aroma and fragrance.
Play with the revolving ring nut and design your perfect cup! It's time to be your own barista.
Three grinding classes to choose from:
Turn the ring nut. Choose your granulometry. It's that simple!
Endless daily combinations. To indulge your every desire.
Available colours: Black, White, Stainless Steel, Blue, Green, Red, Yellow, and Pink.
Technical Features
+ Ring nut micrometric with continuous grinding adjustment
+ Adjustable fork with support
+ Burrs made with M340 steel, 64mm diameter, and titanium coating
+ Up to 1,400kg of coffee
+ Adjust dose in seconds
+ 9kg net weight
+ 250g coffee bean hopper capacity
+ recommended consumption up to 1kg per day
Technical Data
Power 250W
Motor speed 50Hz (rmp) 1400
Motor Speed 60Hz (rmp) 1600


Dimensions:
Weight 9kg
Height 440mm
Width 169mm
Length 240mm
--
CUBE Espresso Machine
The CUBE is Sanremo's most compact coffee machine to date. Beneath its minimalistic exterior lies the technology and power you would expect from any Sanremo commercial machine. Style, and serious substance.
CUBE: the new semi-professional one group model from Sanremo Coffee Machines. An object of desire and advanced technology in the stylish Sanremo tradition. Thanks to the new colour palette and modern design of the side panels, the CUBE offers a great choice for domestic use and in a professional work environment.
Technical Features:
1.9L heat exchanger boiler stainless steel AISI 316
1.8L internal water tank / plumbed connection
SR61 thermosiphon group with mechanical pre-infusion
High performance rotary pump (54L/h)
Boiler power (1500W/230Vac)
1620W/230Vac total power
Energy Saving System
User display
Wi-Fi connection with Web App
8 Colours Available: Black, White, Stainless Steel, Pink, Red, Yellow, Blue and Red.
Complete set of accessories for user experience, including high grade competition IMS baskets
CUBE Accessory Box contains:

Sanremo micro-fibre Barista cloth
Sanremo tote bag
CUBE t-shirt
Stainless steel 350ml milk jug
Cleaning brush
Stainless steel tamper
IMS shower screen (pre-installed)
Single portafilter
Double portafilter
Machine dust cover
7-9 gram IMS basket
16-18 gram IMS basket
18-20 gram IMS basket
20-22 gram IMS basket
Blind basket
Drain hose
Water inlet hose (16ml diameter)
Smart coffee at your fingertips
+ Remote machine on/off
+ Set-up boiler temperature
+ Manage water tank level
+ Enable and manage water filter signaling.
+ Show shot time in real time
+ Statistics: daily, weekly and monthly counters for coffee and water consumption.
+ Weekly scheduler to program up to three different "time slot" per day to fit perfectly around your life!
DIMENSIONS
Width: 32.3 cm
Depth: 46.5 cm
Height: 36.9 cm
Weight: 26.5 kg
CUBE YouTube Playlist: https://youtube.com/playlist?list=PL-_0hW_MCd5XPV9oqMyRe68eCtlkluzPR
CUBE Trailer: https://www.youtube.com/watch?v=F5Ein_AjulM
Save this product for later