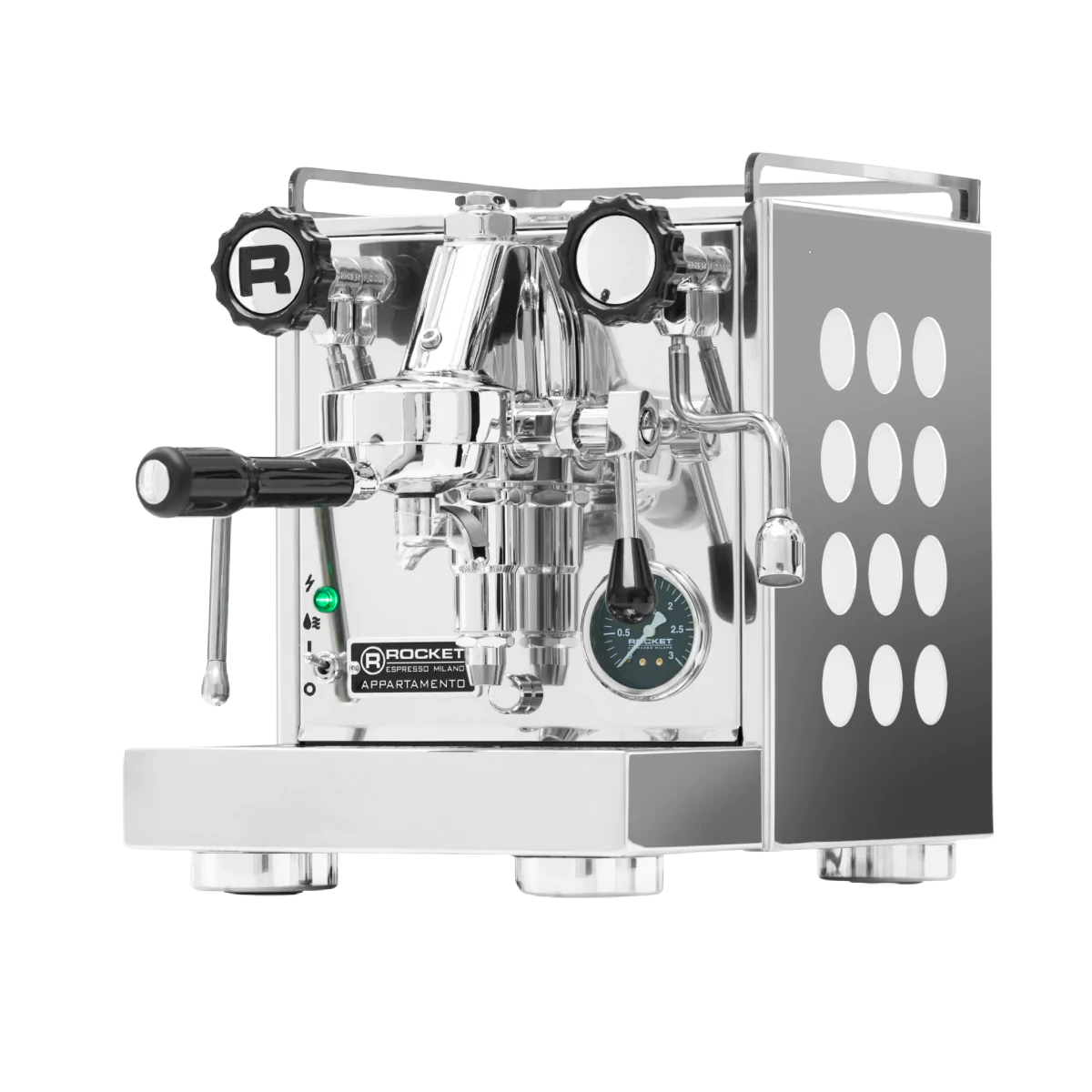 Rocket Espresso APPARTAMENTO
RKTAPPARTAMENTO
Product Details
Rocket Espresso APPARTAMENTO
The Appartamento is a premium domestic Espresso Machine with a compact footprint, designed with the modern kitchen set-up in mind. With expert engineering that can only be expected from Rocket Espresso, the Appartamento delivers a high-quality brewing experience allowing users to recreate café quality coffee at home.
The chassis and internal layout of the machine have been manufactured with functionality and performance in mind, featuring a commercial E61 group head and thermosyphon system for optimal water pressure, temperature and flow. The Appartamento also features a 1.8lt heat exchange boiler and a cool touch steam arm to deliver powerful and consistent steam for every cup.
The Appartamento is a stylish and functional addition to any coffee line-up. Sporting a stainless-steel body and matching cup frame, with the option of either white or copper circular side panel inserts.
A compact home espresso machine
Personalise your selection with the option of a copper or white accent panel
E61 Group and Thermosyphon system to deliver optimal flavours for espresso
A true statement piece with oversized circular feet and a circular side panel pattern
TECHNICAL SPECIFICATIONS
Model - Appartamento
Pump - Vibrational
Thermal Control - Mechanical
Boiler Style - Heat Exchange
Boiler Capacity (L) - 1.8
Water Tank - Yes
Wattage - 1350W, 10 amp
Width (mm) - 274
Depth (mm) - 425
Height (mm) - 360
Unboxed Weight (kg) - 20
Warranty - 24 Months Manufacturers
Save this product for later