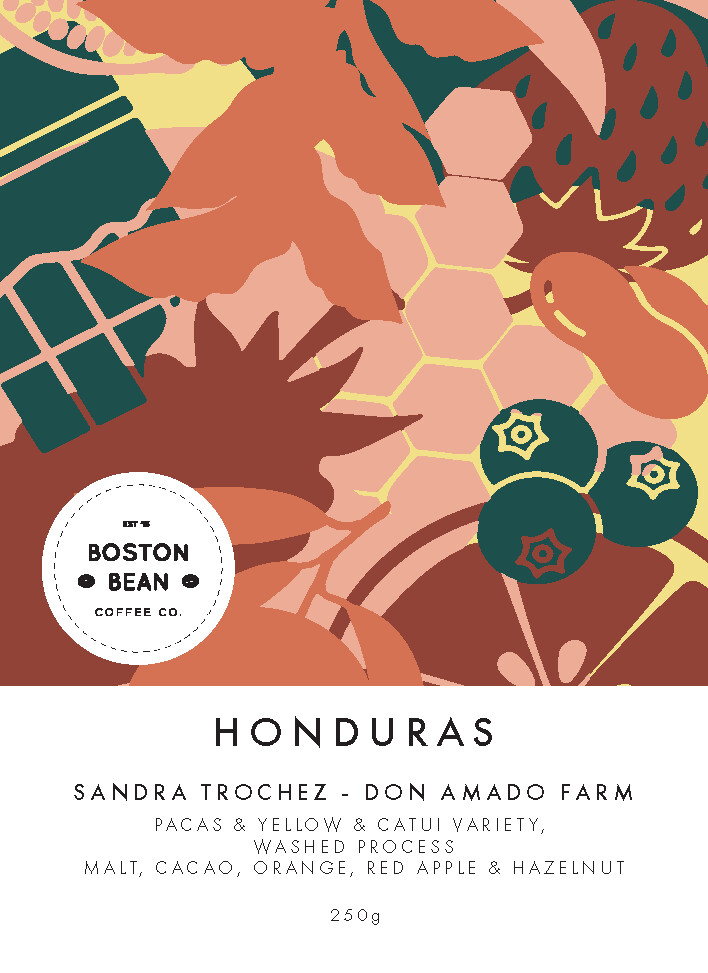 Honduras Sandra Trochez - Washed - Single Origin - Microlot
SANDRATROCHEZ250G
Product Details
Honduras Sandra Trochez
International shipping available

We have secured a small quantity of this fine example of a premium Honduran washed coffee. To really enjoy the complexity try this coffee as a pour over. It is also a wonderful flavour experience as espresso or in your choice of filter styles (aeropress, plunger etc).
The Don Amado farm is run by Sandra Trochez and her family in Las Flores, Santa Barbara. Sandra's late husband, Amado, comes from a long line of coffee producers and from a young age worked on his parents' farm alongside his father until 2006 when his father gave him and Sandra some land to start their own farm - Don Amado. The farm rose to prominence in 2010 when it won the Cup of Excellence for Honduras. Since Amado sadly passed away in 2019, Sandra has continued his legacy of producing exceptional coffee with their two children and Amado's brothers.
Situated beside the Santa Barbara Mountain National Park, the Las Flores region is 1,650m above sea level and enjoys consistent rainfall and cooler than average temperatures compared to other Honduras regions. After harvest, the cherries are carefully de-pulped, and the parchment is dry fermented at 16-20°C for 15 hours. The fermented parchment is then thoroughly washed five times and laid out in parabolic solar dryers for around two weeks. Sandra and her family then hand sort the dried beans to ensure any defects are removed.
Tasting: Malty, hazelnut, brown spice, cacao nibs,orange and red apple

Producer: Sandra Trochez
Region: Santa Barbara, Honduras
Altitude: 1650 meters
Variety: Pacas (50%) & Yellow Catui (50%)
Process: Washed
Pour Over Recipe: (credit: Tetsu Kasuya)
Grind size: Coarse

Water Temp: 89 - 92 degrees Celsius
Ratio: 20g for 300 / 1:15
Brew time: 3min 30s
Rinse filter & pre-heat pour over vessel of your choice.
Pour in 20g of coarse-ground coffee
Add 60g of water per pour 5 times, waiting 45s between each pour. This results in a total brew of 300g.
Control the balance of the coffee by modifying the 1st and 2nd pours. For a sweeter brew, make a smaller first pour (e.g. 50g). For more acidity, a larger one will do the trick.
Use either less or more water for the second pour to compensate for the difference (if any) in the first one.
The 3rd, 4th and 5th pours can be tweaked to 2 larger 90g pours for a weaker brew, or into 4 smaller 45g pours for a stronger one.


Espresso Recipe
Peak Brewing: 7 – 35 days post roast date
Brewing Ratio: 21g dose – 42 gram extraction yield (1:2, approx 50% brewing ratio)
Extraction Time: 30 – 34 seconds
Temperature: 92 – 93 degrees Celsius
Save this product for later