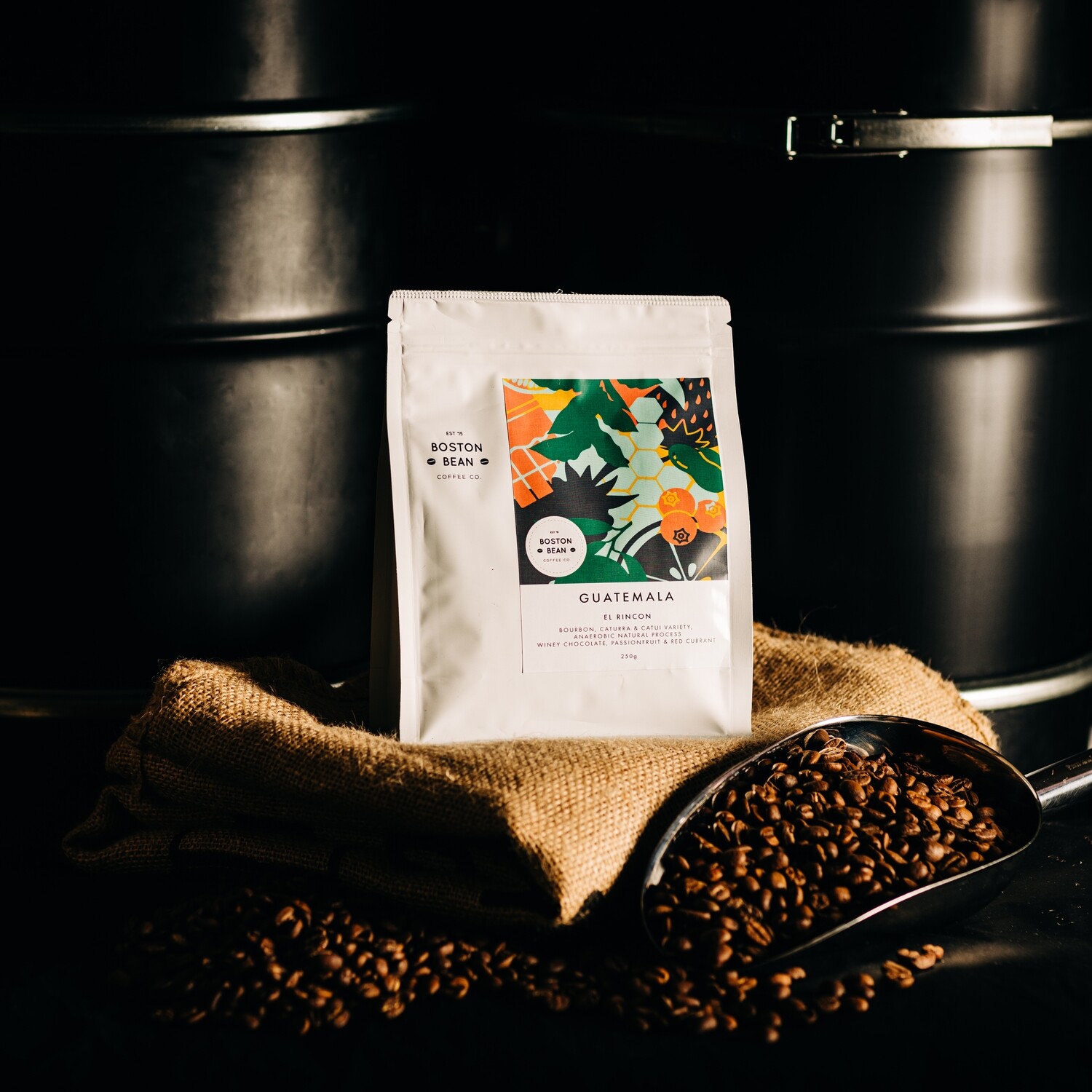 Guatemala El Rincon Anaerobic Natural - Single Origin - Microlot
GUAELRINCON250G
Product Details
Guatemala El Rincon Anaerobic
International shipping available

In 1958, Jorge Vides, founded Finca La Bolsa, a coffee plantation located in La Libertad, Huehuetenango.
While working as a full-time doctor, the farm was his hobby. His passion for health led him to become the Director of the National Hospital of Huehuetenango, which to this day, bears his name.
Jorge Vides brought the land, which was then covered in forest, and proceeded to cultivate bourbon and caturra varietals. Now a third generation of producers, with his grandson Renado Ovalle overseeing production. Vides is still a company passionate about innovation, precision, and quality.
Sustainability: The plantations owned by Vides have a sustainability model based on three pillars:
- Social aspect: Working alongside neighbourhood communities to support the development of this region. Jorge had a humanitarian sense which extended beyond coffee production. In 1980, Jorge founded a school that still runs on the farm.
- Agricultural: Agronomists teach good agronomic practices, with sustainable and environmentally friend priorities based on the Rainforest Alliance standards.
- Environmental: With a goal to focus on conservation of ecosystems by protecting wildlife, the efficient use of water and avoiding deforestation.
In 1956 Roberto Molina acquired the farm and began to plant caturra, bourbon and catuaí. In 2012 after his death, his wife Yolanda Garrido de Molina worked the farm until 2016, from that year the nephews of Roberto Molina (Vides Family) oversee the production of the farm with washed, natural and honey coffees.
Anaerobic Process: This microlot has been processed using anaerobic fermentation for 72 hours in cherry and 36 hours in a tank, before it is taken to dry on the patio for 16 days and raked to ensure even drying. The coffee grows among Inga shade, has a temperature consistently sitting between 19-24°C, humidity 70-80%. The average age of the coffee trees is 20 years.
Tasting: Winey, dark chocolate aroma, sweet, passionfruit, red currant, intensely fruity. Lingering chocolate. well balanced, and well rounded.

Producer: Vides Family – El Rincón
Region: La Libertad / Huehuetenango, Guatemala
Altitude: 1500-1800 masl
Variety: Bourbon, Caturra, Catuaí
Process: Anaerobic Natural


Pour Over Recipe: (credit: Tetsu Kasuya)
Grind size: Coarse

Water Temp: 89 - 92 degrees Celsius
Ratio: 20g for 300 / 1:15
Brew time: 3min 30s
- Rinse filter & pre-heat pour over vessel of your choice.
- Pour in 20g of coarse-ground coffeeAdd 60g of water per pour 5 times, waiting 45s between each pour. This results in a total brew of 300g.
- Control the balance of the coffee by modifying the 1st and 2nd pours. For a sweeter brew, make a smaller first pour (e.g. 50g). For more acidity, a larger one will do the trick.
- Use either less or more water for the second pour to compensate for the difference (if any) in the first one.
- The 3rd, 4th and 5th pours can be tweaked to 2 larger 90g pours for a weaker brew, or into 4 smaller 45g pours for a stronger one.
Espresso Recipe
Peak Brewing: 7 – 35 days post roast date
Brewing Ratio: 21g dose – 42 gram extraction yield (1:2, approx 50% brewing ratio)
Extraction Time: 30 – 34 seconds
Temperature: 92 – 93 degrees Celsius
Save this product for later