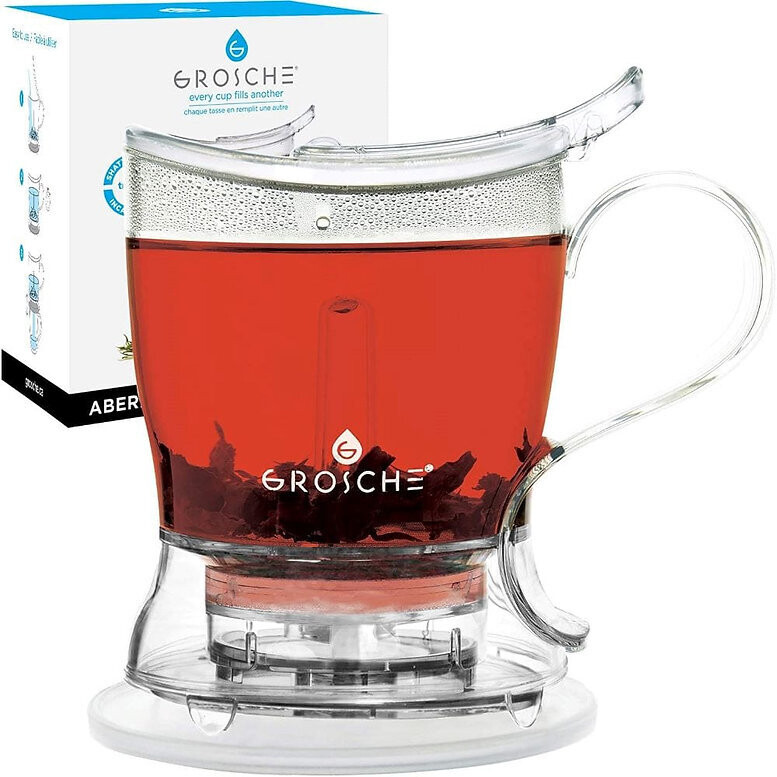 GROSCHE - Teapot Aberdeen
GR317
Product Details
GROSCHE - Teapot Aberdeen
The ABERDEEN Smart Tea Steeper from GROSCHE is an easy, simple way to steep loose-leaf tea. The ABERDEEN is a teapot with infuser that allows you to brew your tea leaves with minimal effort and no mess. It sits comfortably on a regular tea mug and allow you to pour your tea straight from the infuser pot into your mug. The see-through design allows you to watch your tea steeping and taking colour for the perfect infusion.
BPA-Free and Food Safe Tritan™ Plastic
The ABERDEEN is one of the few plastic teapots and tea infusers in the market that is completely made from BPA-free, food safe Tritan™ plastic.
Many brands who claim to have a Tritan™ plastic unbreakable teapot, are often only partly made of Tritan™. They're Tritan™ on the outside, but other cheap PP or other materials inside. Tritan™ is the only plastic material that is food safe certified in every country in the world today, making it an ideal choice to make an unbreakable teapot.
How to Make Tea with the ABERDEEN Smart Tea Steeper
Place your favourite black tea, green tea, tea balls, or other high quality tea in the top of the ABERDEEN. Then pour boiling water into it and let it steep. Once the tea is brewed to your satisfaction, simply place the infuser teapot on top of your mug and push down.
While pushing down, the tea will strain through a fine mesh filter and pour directly into your cup from the bottom of the ABERDEEN. As soon as you remove the ABERDEEN from the cup, the tea stops pouring.
The ABERDEEN Infuser Teapot is very easy to clean!
Just push the upright stem that is on the strainer and it will pop out for cleaning. This tea maker is dishwasher safe so you can simply wash the parts by hand or place them in the dish washer for easy cleaning. To reassemble simply push the strainer back into the pot and you're done. This easy-clean feature makes this the best mess-free teapot that you will own.
GROSCHE Safe Water Project
Every time you buy a GROSCHE product, you are funding 50+ days of safe water for people in need via the GROSCHE Safe Water Project. As of 2019 GROSCHE has funded over 115 Million Days of safe water for people in need in over six different countries.

Save this product for later