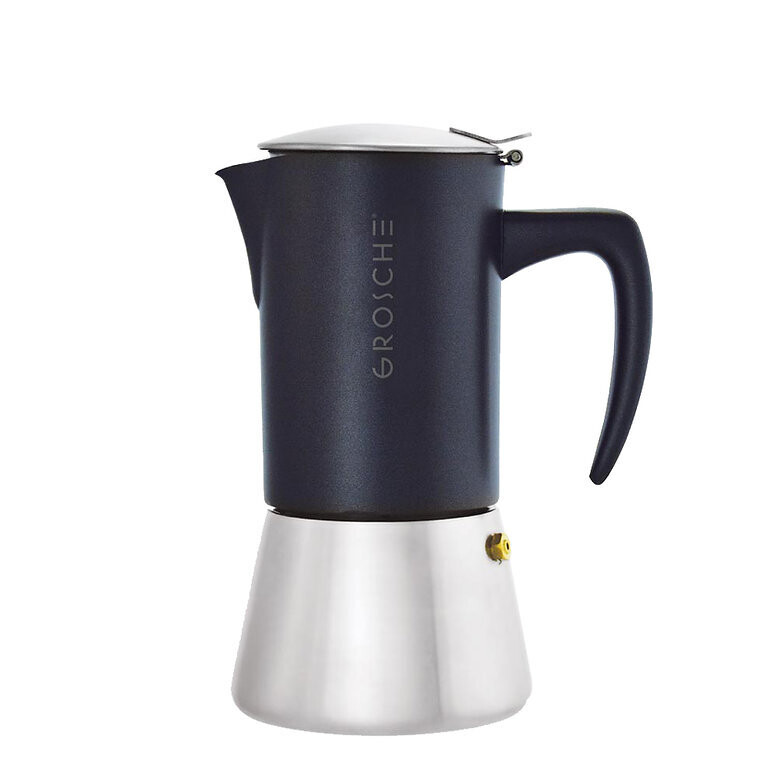 GROSCHE - Stovetop Espresso Maker Milano Black Steel
GR407
Product Details
GROSCHE - Stovetop Espresso Maker Milano Steel
With the same attention to detail, the Milano Steel is a stainless Steel Stovetop espresso maker. You will feel the quality the moment you hold it in your hands. The Satin finish, the subtle curves of the handle, and the matte black powder coating make this a classic and stylish way to make stovetop espresso in a stainless steel moka pot.
The Milano has been especially designed to brew smooth and rich moka coffee with the fine stainless steel boiler, body, and funnel as well. It is built to be heavy, and strong, and it will last you a lifetime.
This stainless steel coffee maker can be used on all types of stove tops including gas stove, induction stove, electric coil stove and propane stove- where aluminium can not. This moka pot is dishwasher safe.
This type of stovetop coffee maker brews a thicker and richer coffee than a normal electric coffee percolator, known as Italian coffee or moka coffee or stovetop espresso.
Italian Safety Valve
Each pot is a pressure vessel and should be handled with care. That's why we only use Italian Safety relief valves in the Milano moka espresso makers.
GROSCHE Safe Water Project
Every time you buy a GROSCHE product, you are funding 50+ days of safe water for people in need via the GROSCHE Safe Water Project. As of 2019 GROSCHE has funded over 115 Million Days of safe water for people in need in over six different countries.
Save this product for later