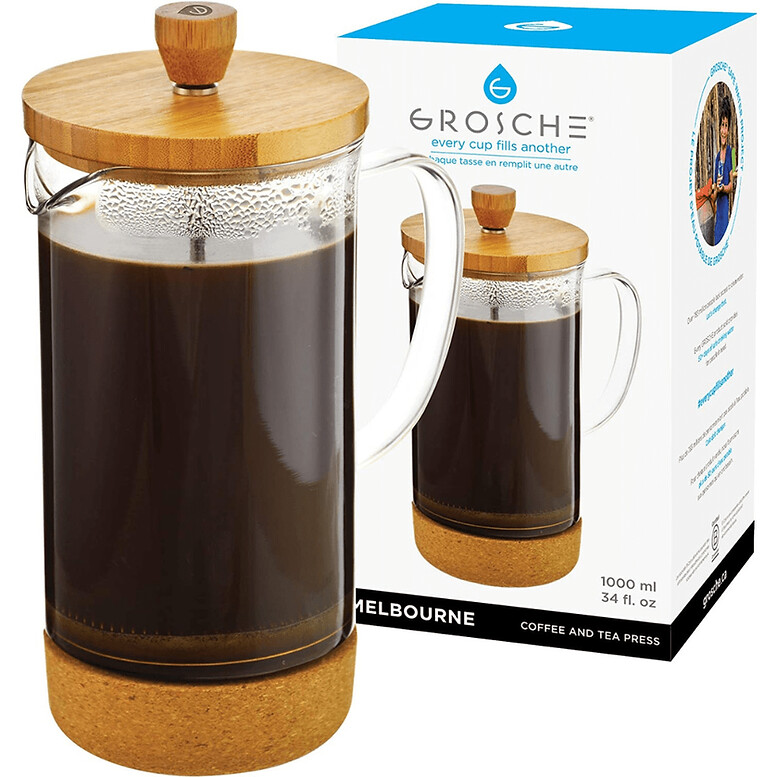 GROSCHE - MELBOURNE 8 Cup Bamboo & Cork French Press Coffee maker
GR343
Product Details
GROSCHE - MELBOURNE 8 Cup Bamboo & Cork French Press Coffee maker
The MELBOURNE French Press by GROSCHE has a bamboo lid, and a natural cork base. Not only is it a beautiful piece of coffee décor, but it's also eco friendly and makes a delicious cup of coffee. You can use it with coarse ground coffee to make a strong and full bodied cup of coffee. You can also use this French press with loose-leaf tea or to make cold brew coffee.
The MELBOURNE glass French press features heatproof borosilicate glass, meaning this glass is completely heatproof and will never cloud or impart any flavour. This French press coffee maker has a capacity of 8 cups / 1000 ml / 34 fl. oz, enough to make two to three large cups of coffee.
Natural Bamboo and Cork
The base of the MELBOURNE French press coffee and tea maker has a removable cork base that easily comes off for cleaning. The wood lid is made from renewable bamboo. Since it is bamboo, you should wash the lid and the base by hand for longevity, but the glass carafe is dishwasher safe.
The wood top will age naturally, and change its colour over time. It is not artificially stained or varnished to ensure it remains food safe. Its inspired by the premium coffee culture in Australia and New Zealand.
Easy to Use, Easy on the Environment
This French coffee press is not just easy to use, but also much better for the environment than traditional coffee makers as it does not require any electricity or paper filters to brew your coffee or tea. Bamboo and cork are naturally renewable materials. So that makes this Bamboo French Press a very eco-friendly coffee maker for you to use.
GROSCHE Safe Water Project
Every time you buy a GROSCHE product, you are funding 50+ days of safe water for people in need via the GROSCHE Safe Water Project. As of 2019 GROSCHE has funded over 115 Million Days of safe water for people in need in over six different countries.
Save this product for later