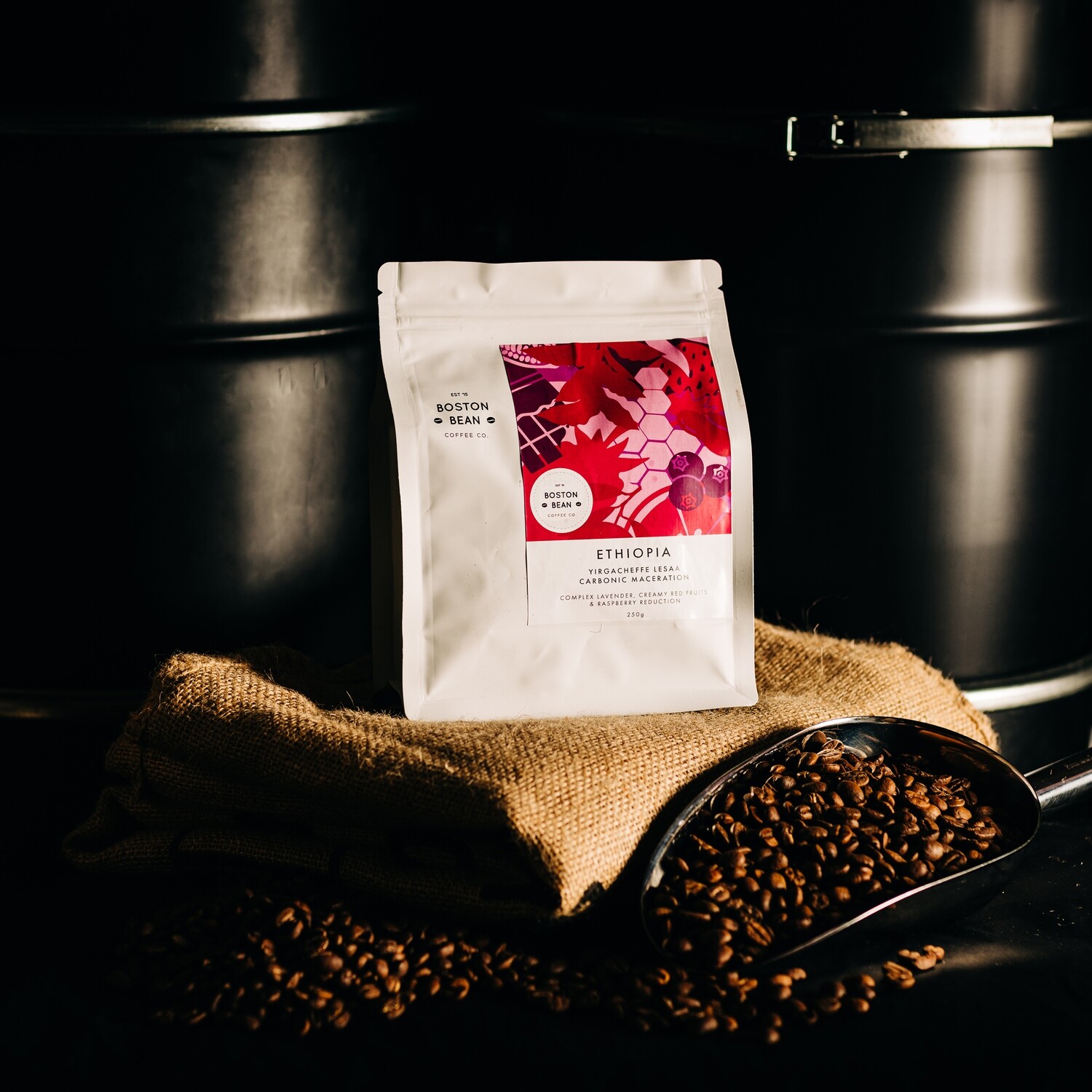 Ethiopia - Yirgacheffe, Lesaa - Carbonic Maceration - EXOTIC - SINGLE ORIGIN
ETHYIRG250G
Product Details
Ethiopia Yirgacheffe Lesaa CM Natural
International shipping available
Another amazing coffee from our friends at Utopia Coffee.
This stunning microlot is produced by a group of small holder farmers from villages in the Gideo, Gedeb and Kebele regions. These areas are renowned for the perfect conditions and climate for growing premium coffee. The fresh ripe coffee cherries are hand picked before being collected and sent to the Mulugeta Sintayehu wet mill for further sorting and processing.
The ripe, red cherries are sorted again at the mill before being placed into fermentation bags and sealed. Air is removed from the bags and CO2 added, this process is repeated several times until the required fermentation and alcohol content is reached. The coffee is finished with further natural fermentation and drying on raised African beds.
Tasting: Complex, lavender, creamy red fruits and raspberry reduction

Region: Gideo, Gedeb, Kebele
Producer: small holder farmers

Altitude: 2050 - 2200 metres above sea level

Varietal: Heirloom

Grade: 1

Process Method: Carbonic Maceration, Natural
Pour Over Recipe - please feel free to experiment (credit: James Hoffmann):
Water Temp - 95°c
Dose -18g, grind - medium fine (39 - 45 clicks on a Varia hand grinder or 21 - 28 clicks on a Comandante hand grinder)
Pour -

00:00 - Bloom - 45g water
00:45 - Pour to 180g
01:35 - Pour to 300g
02:05 - Stir the surface gently once with a teaspoon and give the V60 a gentle swirl
03:10 - Done - Enjoy your cup (Thanks Henry!)
Espresso:

Peak Brewing: 7 – 35 days post roast date

Brewing Ratio: 44% (1:2.25) i.e. 20g dose = 45g extraction yield
Extraction Time: 28– 32 seconds

Temperature: 93 degrees Celsius
Save this product for later