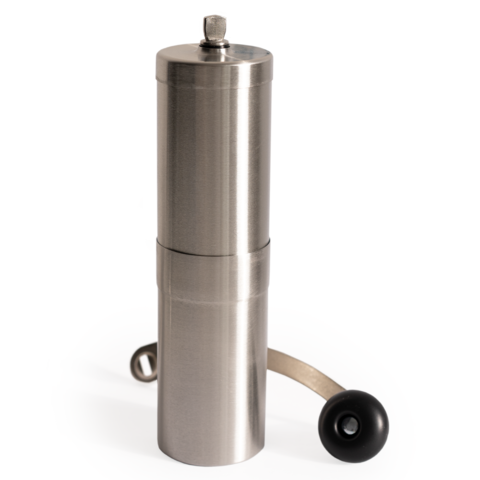 Porlex II Hand Grinder
PXT2
Product Details
Porlex II Hand Grinder - Japanese Made Quality
With its newly designed burr set, the Porlex II can grind beans easier, faster, and more evenly. This results in less fines, less boulders, and more even grind size distribution. Do you know what they say about even grounds? More delicious coffee in your mouth! Compared to the Porlex I, this grinder can produce roughly 1.3 times more coffee with the same number of rotations. Wow! There is no need to worry about the top of the grinder rolling away like a boulder in Indiana Jones - Porlex has redesigned the adjustment nut so that it stands up proud and tall on its own! With the new burr, the per click adjustment changes an average of 37 microns - meaning you can further dial in your Hario V60 recipe. Made in Japan with higher quality materials than its predecessor, the Porlex II punches above its weight - scaring its rivals back to their grinder travel pouch caves.

is a compact coffee grinder, perfect for travel or every day use at home!
Features:
Class leading Handle design (patent pending)
Ceramic conical burr
Full adjustment Turkish powder to French Press coarse
Lifted curved handle is about 150mm long
Very quiet static free operation with effortless turning force required to grind
Bottom catch cup allows direct dosing into portafilter, no additional funnels needed
Grind rate is about 200 turns for 14 grams of beans through the espresso range
Made in Kagoshima, Japan.
English instructions included.
Capacity : Tall approx 38g - Mini II - approx 22g
Save this product for later